Bookkeeping and Accounting Services
At B&B Financial Group Inc., we go beyond the client's expectations and use a hands-on approach with their business. Our accounting services go well beyond basic bookkeeping—we go the extra mile. We demonstrate to our clients how proper accounting records and procedures can help increase both their top and bottom lines. We are QuickBooks certified professionals.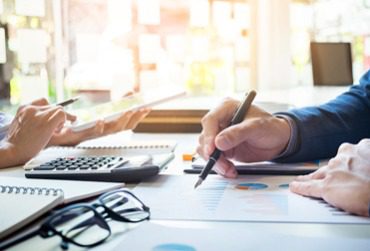 Tax Preparation and Planning
An important part of our services pertains to taxes. Why wait until April of the next year to know what your tax bill will be? New clients learn that they could have minimized their tax liability with proper planning. In closely-held companies, we coordinate all tax planning between the companies and their owners.
We help clients incorporate and teach them how to use QuickBooks, so they can learn how to do it themselves and help their company get started. Or we can provide these services for them.
Estate and Trust Accounting and Tax Preparation
Today's streamlined economy has inspired creative reorganizations in small to medium-sized companies. One common strategy is the elimination of the accounting/bookkeeping department. With the advent of cloud computing, remote access, and paperless back offices, we have developed procedures to fill that void at a fraction of the cost that a company would spend for their own internal personnel.
Our experienced accountants and bookkeepers work closely as part of a team with the estate and probate attorneys in all financial areas. This arrangement works especially well when combined with our tax and strategic planning services. Since we constantly monitor the financial health of the company, we are able to engage in tax planning with financial records we can trust. Likewise, when we produce a strategic or business plan, we are better positioned to implement the plans, measuring the company's progress against its key performance indicators.
Our clients have utilized this service without hiring full-time employees who incur costs such as payroll taxes, worker's compensation, and employee benefits.